THE MOST VERSATILE AND ORGANIZED BACKPACK for everyday+travel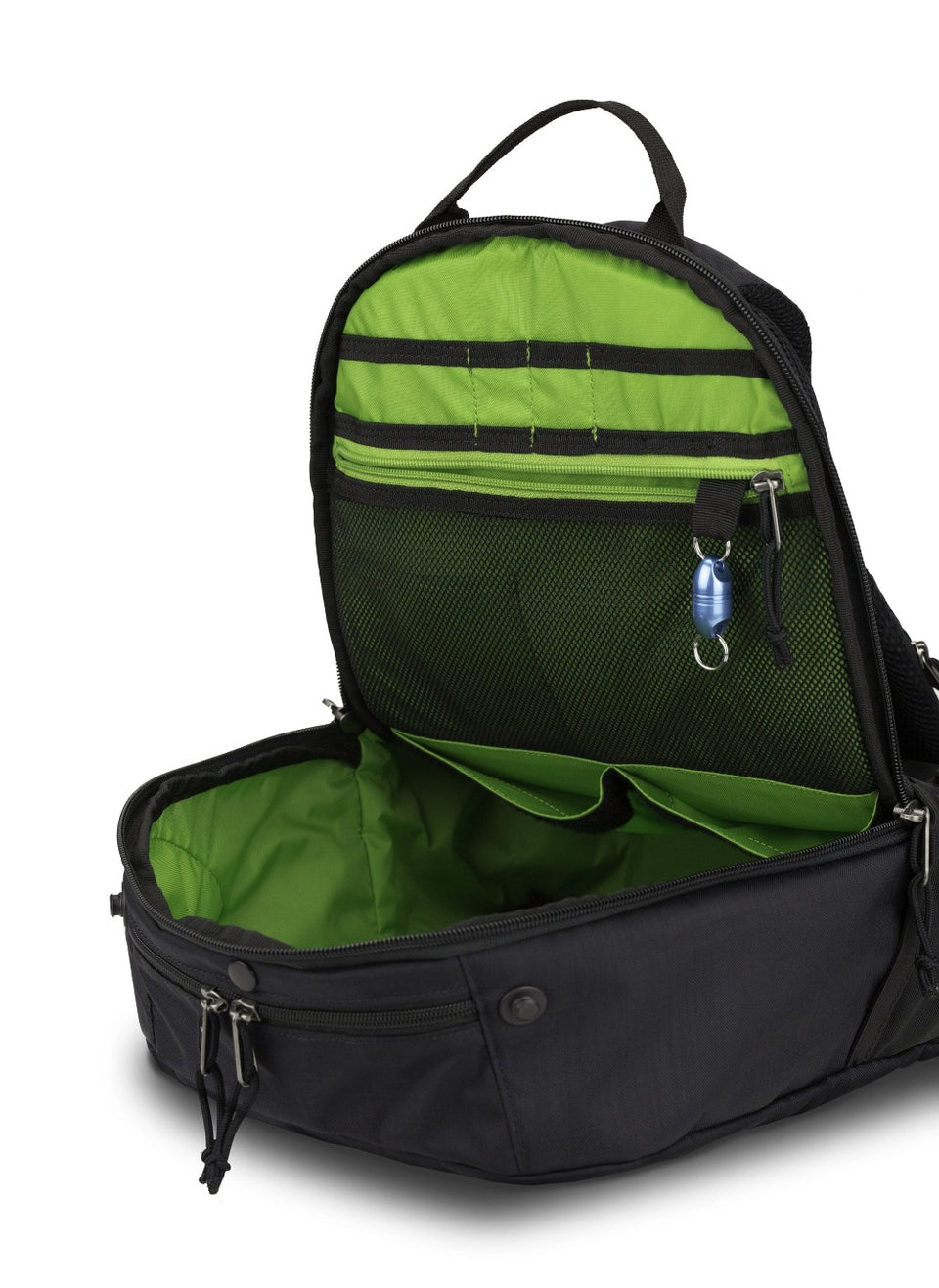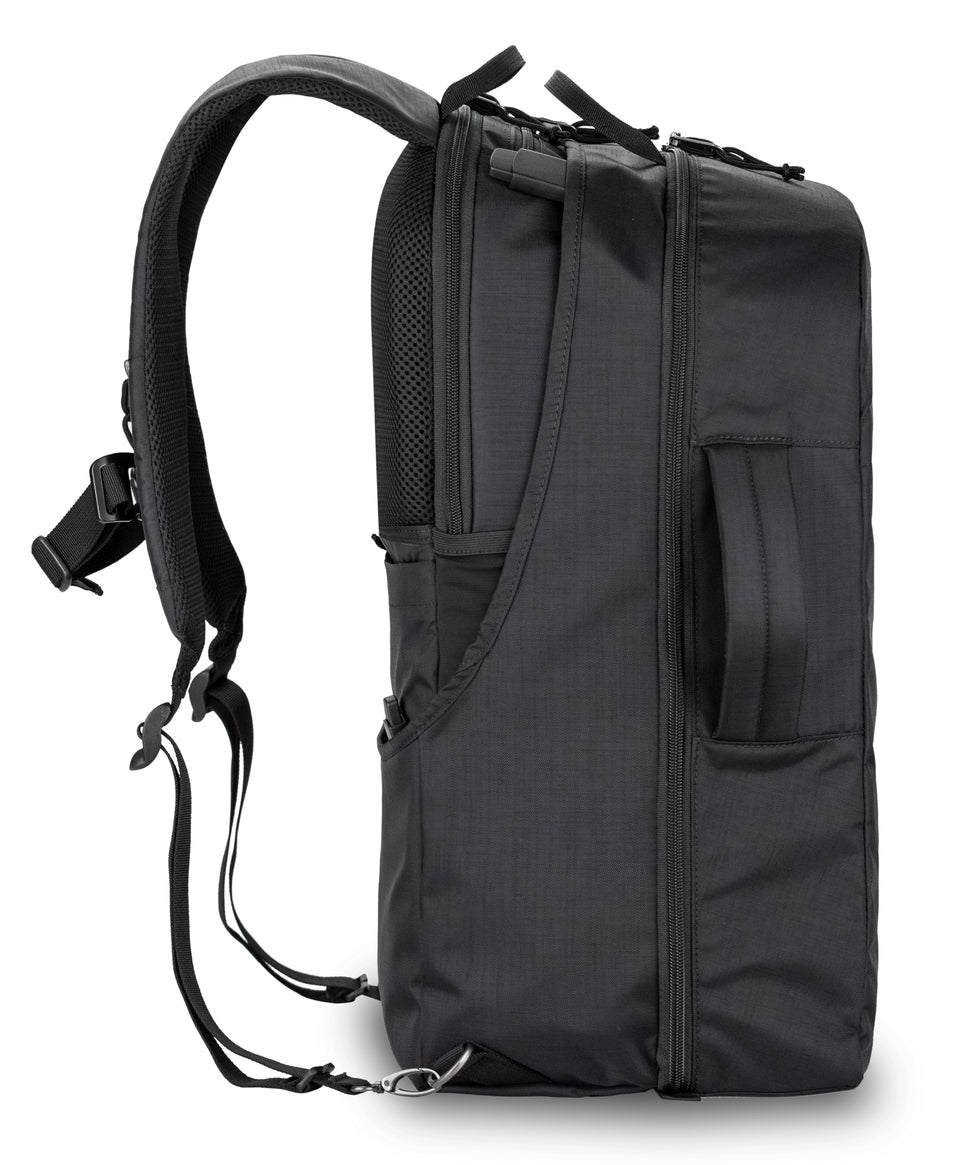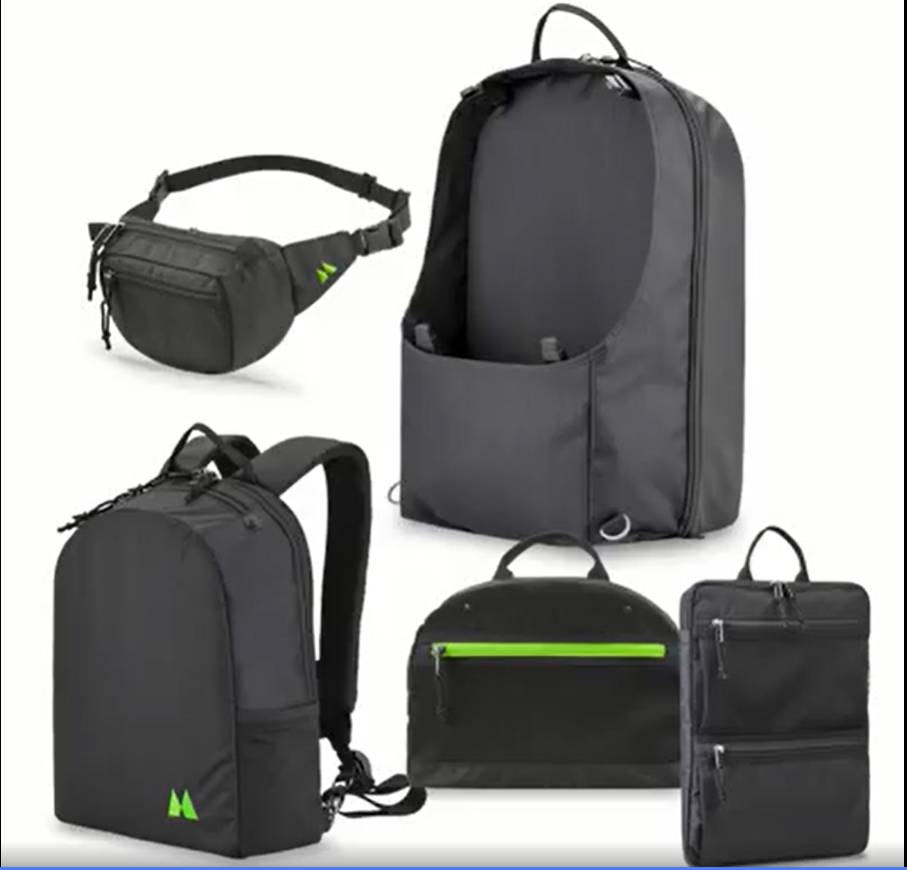 The Journey - Complete 5-in-1 Modular Travel Bag System
The Journey™ is the last bag system you'll ever need- because it's all the bags you need! 

5-in-1 modular backpack that is versatile and perfect for traveling around town and around the world.  The minimalist, lightweight design transforms to meet your day-to-day needs while traveling, carrying, commuting, hiking, or exercising.
- Complete Journey Bag: 20"x13"x10" : 50cm x 33cm x 25cm  
That's 35 liters of volume total
- Detachable day pack for traveling lighter: 15"x11"x5" : 38cm x 28cm x 13cm
- Detachable hip pack to carry essentials : 8"x5"x2" : 20cm x 13cm x 5cm
- Detachable laptop sleeve for 13" travel laptop : 10"x14"x1" : 36cm x 24cm x 3cm
- Hanging toiletries bag : 10"x8"x3" : 25cmx20cm x 8cm
- Shoe garage draw string bag : 11"x13.5" : 28cm x 34cm
- Smaller drawstring bag for tech accessories : 5"x5" : 13cm x 13cm
- Water bottle pockets are elastic, and are best for 750ml/75mm diameter bottles or smaller.
Hip Pack: 1.6 liter


Day Pack: 13 liters

Travel Pack: 20 liters

Total: 35 liters

all nested together in a

Carry-On Sized Pack

 Exterior: 2-tone PU Finished nylon

 

450d

 

- Anthricite

Interior:

 

2-tone PU Finished nylon

 

210d

 

- Spring Green

Woojin

 

plastic buckles and parts

Trimmers

 

Hardware metal clips

YKK

 

zippers throughout

(4) 20kg

 

Fidlock

 

Buckles

weighs

 

only

 

1.7kg/3.75lbs
The Journey System is a modular backpack that offers a range of modules for different purposes. It includes a hip pack, day pack, and luggage pack, making it a great carry system for every day of the year. Here are some reasons why:
Hip pack for essentials: The hip pack module is perfect for carrying your essentials, such as your wallet, keys, phone, and sunglasses. It's small and compact, making it easy to wear around your waist or across your chest. This module is ideal for quick trips to the store, running errands, or going for a walk.
Day pack for daily adventures: The day pack module is designed for your daily adventures. It's a bit larger than the hip pack, so it can hold more items, such as a water bottle, snacks, and a light jacket. This module is perfect for hiking, biking, or exploring a new city. It's also great for commuting to work or school.
Luggage pack for all your clothes: The luggage pack module is the largest of the three modules. It's designed to hold all of your clothes and personal items for a longer trip. It includes a main compartment, a laptop compartment, and several smaller pockets for organization. This module is perfect for a weekend getaway, a business trip, or a longer vacation.
Modular design: The Journey System's modular design allows you to use the modules depending on your needs. For example, if you're going on a weekend trip, you will be in situations where the hip pack is all you need, rather than a full day pack. The luggage pack allows you to leave your clothes where you stay, so you can move with a smaller, more streamlined backpack. This versatility makes the Journey System a great carry system for every day of the year.
Comfortable and durable: The Journey System is designed to be comfortable and durable. It features padded straps and a back panel for comfort, as well as high-quality materials for durability. This means you can wear it all day without feeling uncomfortable, and you can rely on it to last for years to come.
Overall, the Journey System's modular design makes it a great carry system for every day of the year. Whether you're running errands, going on a hike, or traveling to a new city, the Journey System has the right module for your needs. It's comfortable, durable, and versatile, making it a great investment for anyone who needs a reliable backpack.
Highest quality materials + design for everyday has our customers impressed.
I'm so impressed... So many brilliant ideas

This pack has features I never knew I wanted! Is there anything you haven't included in this thing? , I could rave all day about this system. Overall I can't say enough good stuff about your design, and I'm so glad I bought one. I'm a gear freak and highly critical of my kit. Thoughtful design of this depth is rare.
Jon - Pilot
The most versatile bag I've ever owned

All of the components are useful while traveling and can be repurposed upon arrival at the destination.  The bags are rugged yet aesthetically pleasing.
Tami - Army Nurse
Compact, adaptable to what I need

Wow! The best traveling back pack ever. I fly over 120K miles per year and always have struggled to find the right packing system. This bag does it! Compact, adaptable to what I need, and surprisingly organized with all the pockets I need. 100% recommend!
Cesar - Consultant
Comfortable and Adjustable

The fanny pack was perfect when I was doing long hikes and didn't want to carry extra weight and the day pack worked well for other shorter hikes. I really love the toiletry bag that easily snaps out and has plenty of room for my personal items. Most importantly, the full bag is comfortable and adjustable and has plenty of space for clothes, shoes and a laptop. It helped me pack light and stay organized the entire trip.
Emily - Travel Blogger
I love not having to repack

My family and I are amazed at how versatile and unique this bag is, and I love the look. 
Matt - Videographer
The most efficient and effective travel kit

As someone who has traveled to Europe each of the last 5 years, this is absolutely the most efficient and effective travel kit system I have ever seen. Very excited to utilize travel light on our next trip across the Atlantic!
Jeff - Coach
We Got Your Back
No matter where you take your Journey, no matter how much wear and tear you put your bags through, we guarantee that your Journey will last a lifetime.