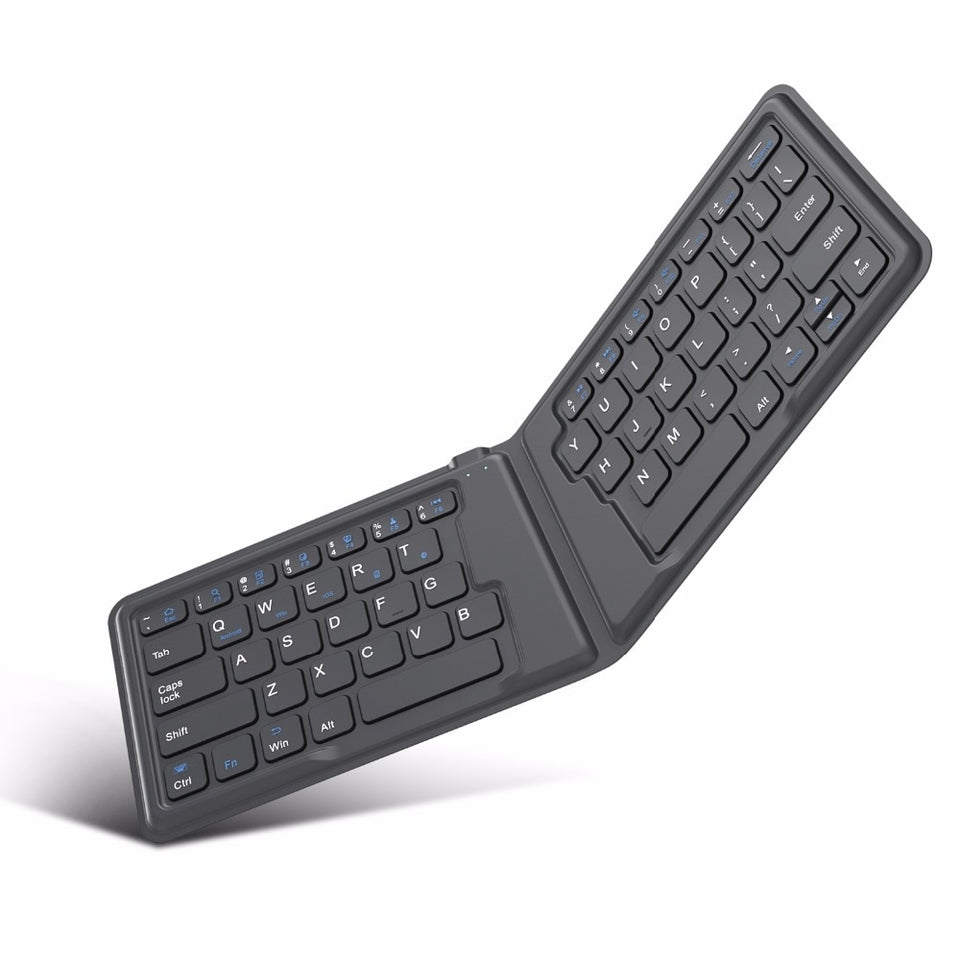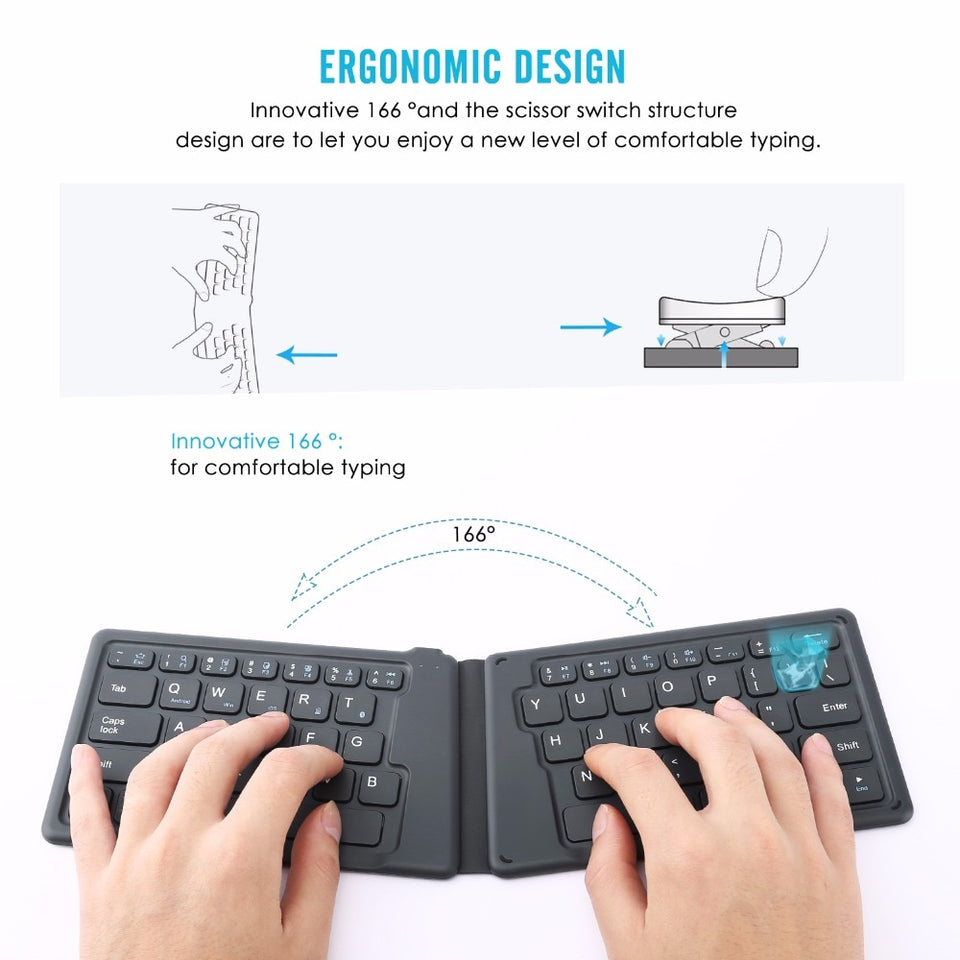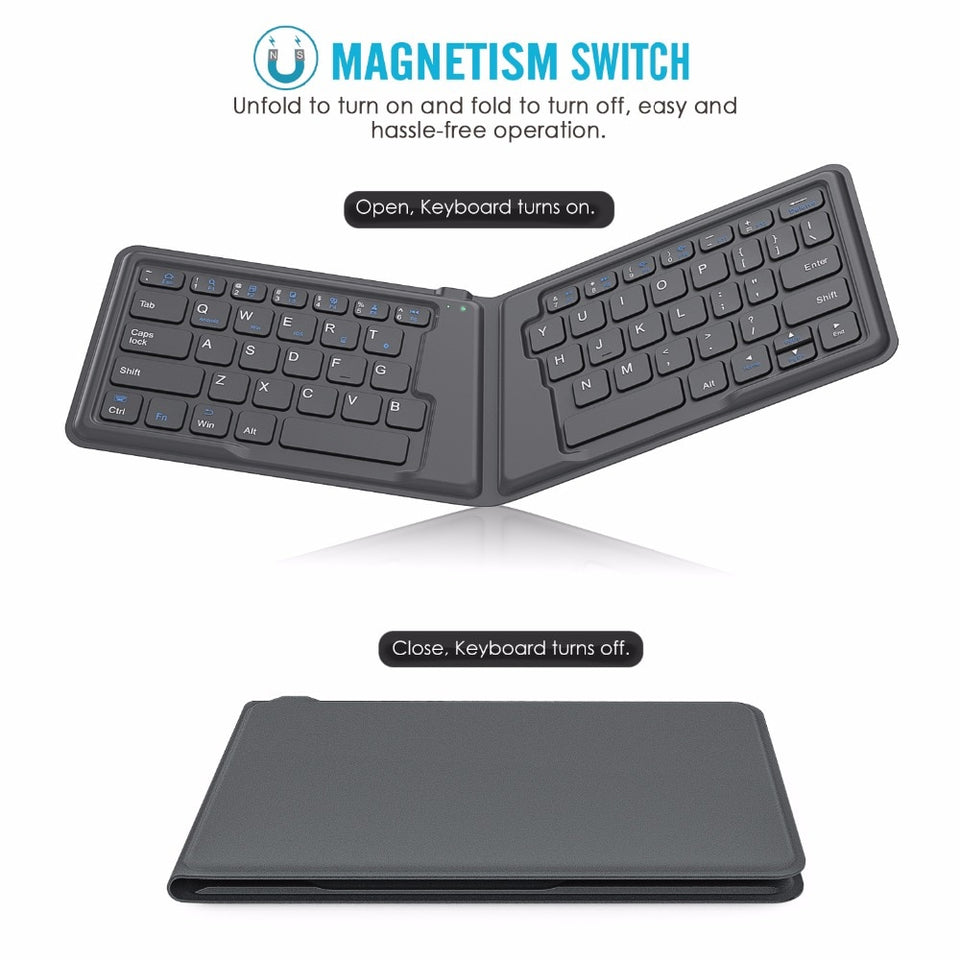 Ultra-Thin Foldable Rechargeable Keyboard
33547154-gray
You Need this Keyboard.   Once you use this keyboard that syncs effortlessly to your mobile device, you'll never want to carry a laptop to the café again.   With great touch action, ridiculously long battery life, and very pleasant feel, this amazingly light - 139 grams keyboard should be a part of any smart traveler's gear. 
Brand: MoKo
Color: Grey
Features:
iOS / Windows / Android COMPATIBILITY: Compatible with 3 major operating system: iOS / Windows/ Android. Supports most Wireless-enabled devices, including All-New iPad 9.7 2017/2018, iPhone X, iPhone 8 / 7 / 7 Plus Red, Fire HD 10, Fire HD 8, Samsung Tab A 10.1.
ULTRA-THIN & LIGHTWEIGHT: Folded: 6.37" * 3.8" * 0.4", unfolded: 12.6" * 3.8" * 0.2". Weighs only 138.8g (4.9 ounces). The innovative, foldable design easily fits into a purse, bag, or pocket. Suitable for travel & work
EASY ON / EASY OFF: The keyboard is automatically turned on when you open it and turned off when you fold it.
RECHARGEABLE: Built-in rechargeable battery supports 40-hour continuous working / standby 30 days, you can charge from any USB port using the included cable.
ERGONOMIC DESIGN: The full-size keyset with V-shaped frosting surface provides excellent sense of touch and comfortable typing experience.
Binding: Personal Computers
Details: How to Pair the Keyboard with Phone or Tablets
Step 1: To turn on, simply unfold the keyboard.
Step 2: Press the "FN + T(Wireless sign)" keys together to enter pairing mode. The blue indicator will begin to blink. Step 3: On your device, activate its Bluetooth function and Search for the "Foldable Bluetooth Keyboard", the Bluetooth indicator will turn off when paired. Step 4: Press "FN + Q(Android) / FN + W(Window) / FN + E(iOS) " keys to select operating system you are using. Specifications
Wireless Specification:
Dimension: Folded: 6.37" * 3.8" * 0.4", unfolded: 12.6" * 3.8" * 0.2"
Net Weight: 138.8g (4.9 ounces)
Operating Range: Up to 10 Meters
Modulation System: GFSK
Stand-by Time: 30 days
Charge Time: approximate 2 hours
Uninterrupted Work Time: 40 hours
Key Life: 3 million clicks
Material: PU case / ABS
Troubleshooting
If you are unable to connector the keyboard to your devices, please try the following:
1. Starting with a full charge on both devices ensures that process will not be interrupted by a low power.
2. Make sure your device's Bluetooth is on. 3. Make sure that the keyboard is within the effective operation distance of 33 feet(10M). Note
1. This keyboard is not compatible with Nokia phones or Windows 8 operating systems.
2. Fold it to power off the keyboard to conserve energy if it is not in use. Do not use out of the operating range.
Package Content
1 * Foldable Keyboard
1 * Micro-USB Charging Cable
1 * User Manual
Package Dimensions: 7.9 x 6.8 x 0.9 inches