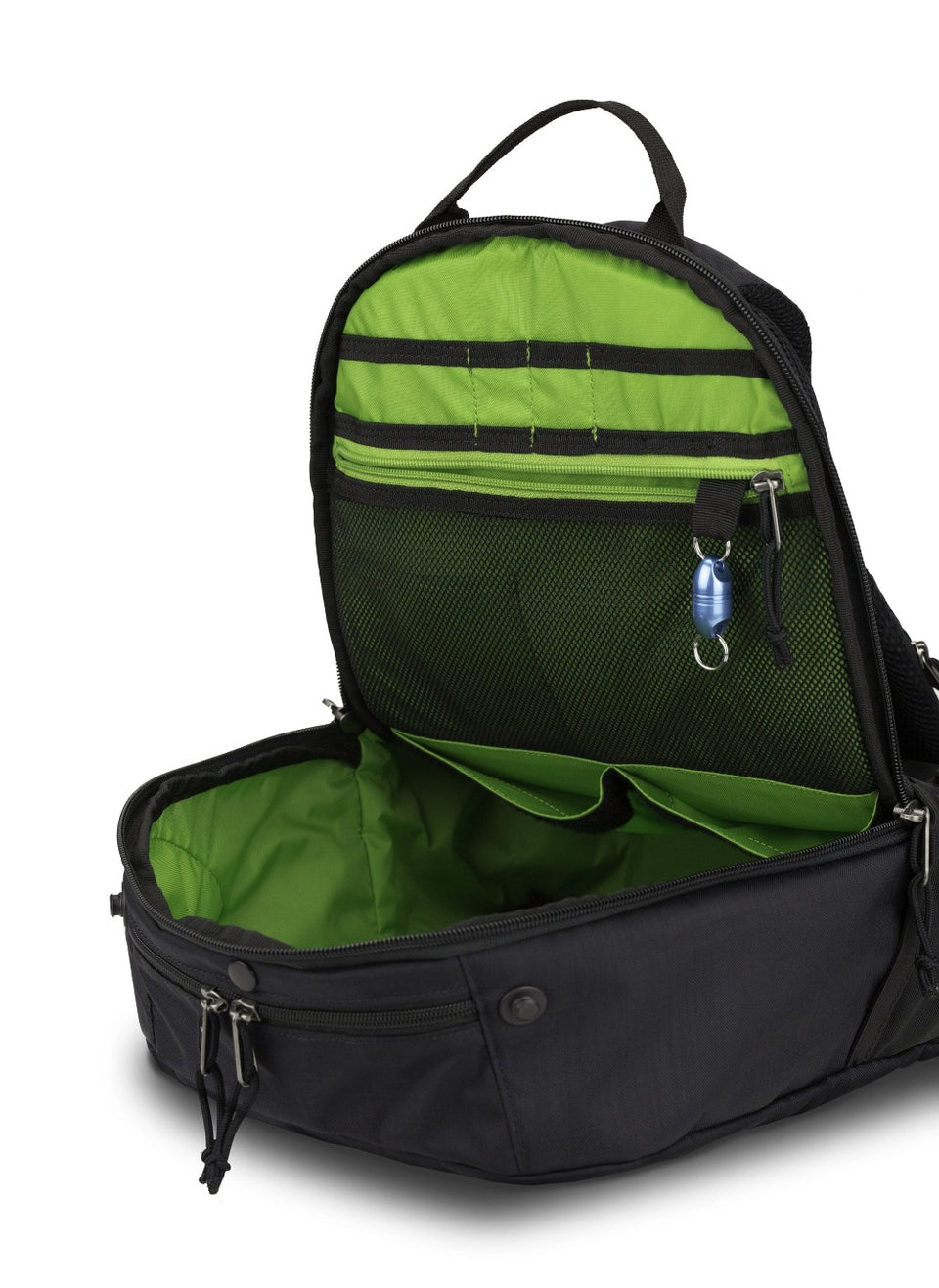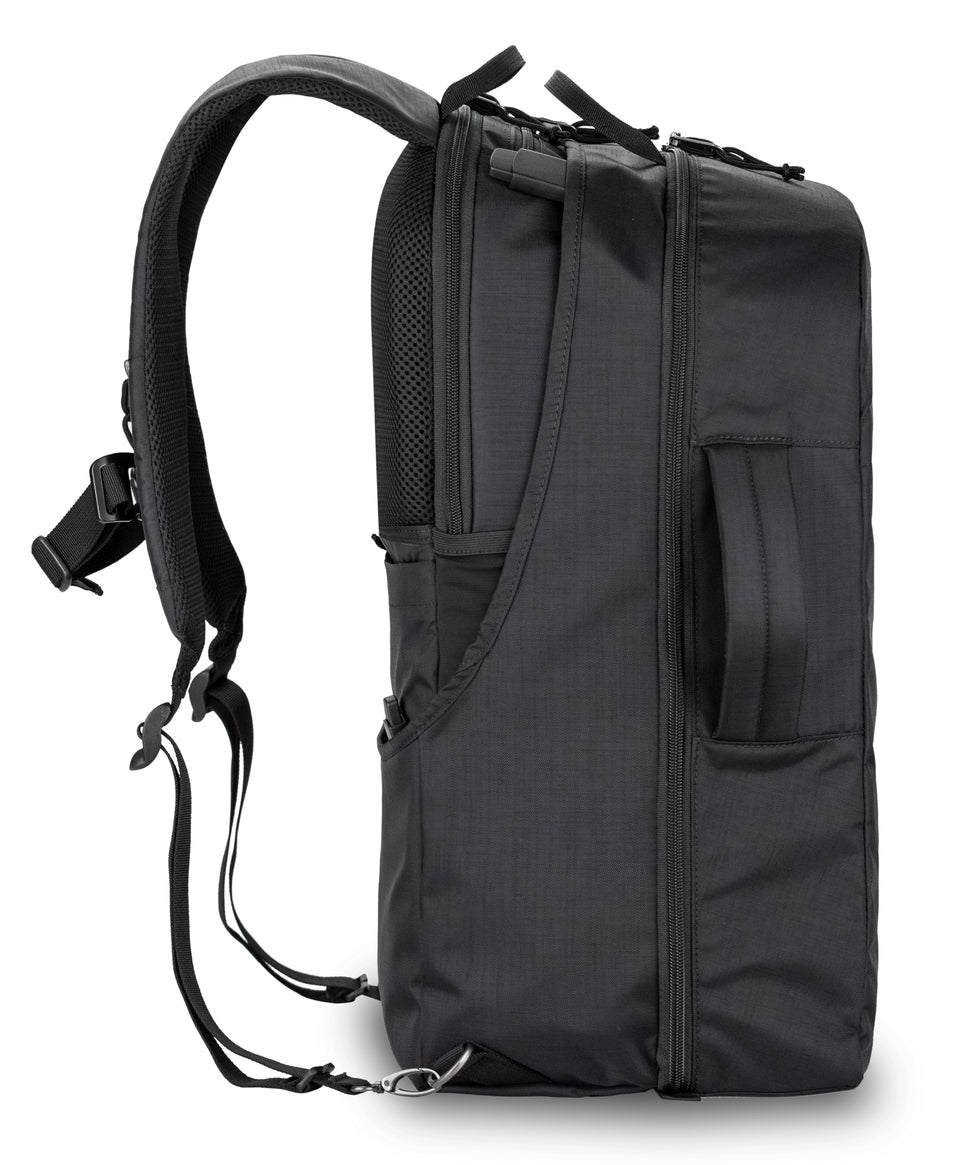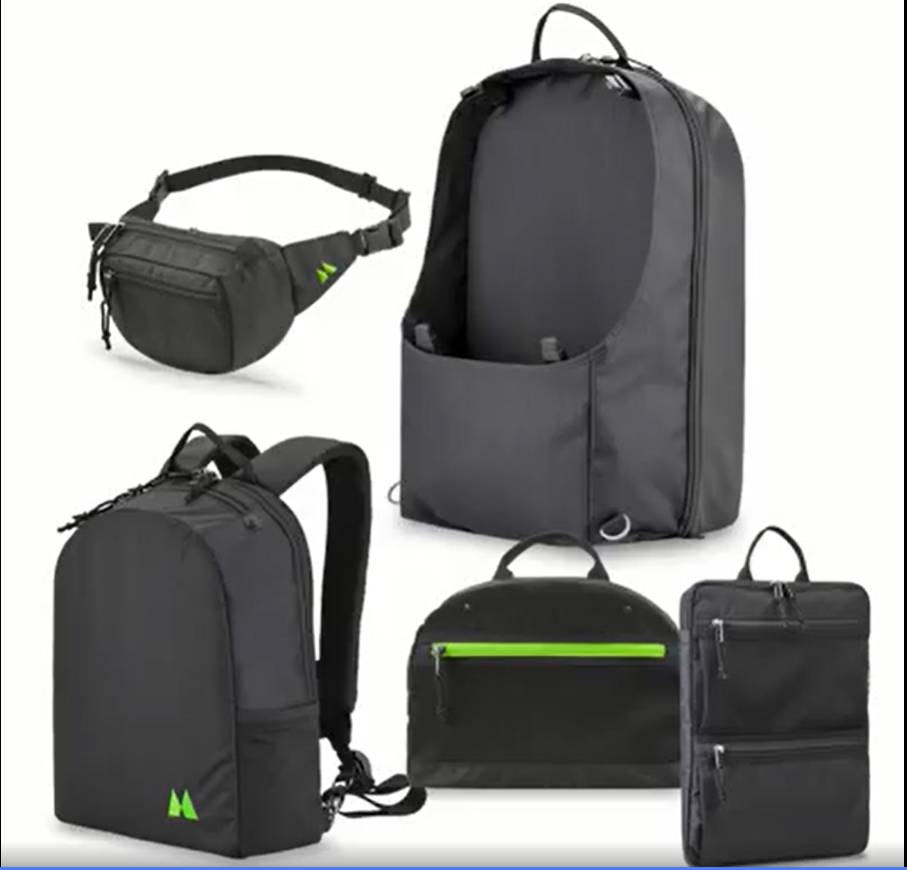 The Journey - Complete 5-in-1 Modular Travel Bag System
IDM-MK-Journey-BlkGrn
The Journey™ is the last bag system you'll ever need- because it's all the bags you need! 

5-in-1 modular backpack that is versatile and perfect for traveling around town and around the world.  The minimalist, lightweight design transforms to meet your day-to-day needs while traveling, carrying, commuting, hiking, or exercising.
- Complete Journey Bag: 20"x13"x10" : 50cm x 33cm x 25cm  
That's 35 liters of volume total
- Detachable day pack for traveling lighter: 15"x11"x5" : 38cm x 28cm x 13cm
- Detachable hip pack to carry essentials : 8"x5"x2" : 20cm x 13cm x 5cm
- Detachable laptop sleeve for 13" travel laptop : 10"x14"x1" : 36cm x 24cm x 3cm
- Hanging toiletries bag : 10"x8"x3" : 25cmx20cm x 8cm
- Shoe garage draw string bag : 11"x13.5" : 28cm x 34cm
- Smaller drawstring bag for tech accessories : 5"x5" : 13cm x 13cm
- Water bottle pockets are elastic, and are best for 750ml/75mm diameter bottles or smaller.
Hip Pack: 1.6 liter


Day Pack: 13 liters

Travel Pack: 20 liters

Total: 35 liters

all nested together in a

Carry-On Sized Pack

 Exterior: 2-tone PU Finished nylon

 

450d

 

- Anthricite

Interior:

 

2-tone PU Finished nylon

 

210d

 

- Spring Green

Woojin

 

plastic buckles and parts

Trimmers

 

Hardware metal clips

YKK

 

zippers throughout

(4) 20kg

 

Fidlock

 

Buckles

weighs

 

only

 

1.7kg/3.75lbs
The Journey System is a modular backpack that offers a range of modules for different purposes. It includes a hip pack, day pack, and luggage pack, making it a great carry system for every day of the year. Here are some reasons why:
Hip pack for essentials: The hip pack module is perfect for carrying your essentials, such as your wallet, keys, phone, and sunglasses. It's small and compact, making it easy to wear around your waist or across your chest. This module is ideal for quick trips to the store, running errands, or going for a walk.
Day pack for daily adventures: The day pack module is designed for your daily adventures. It's a bit larger than the hip pack, so it can hold more items, such as a water bottle, snacks, and a light jacket. This module is perfect for hiking, biking, or exploring a new city. It's also great for commuting to work or school.
Luggage pack for all your clothes: The luggage pack module is the largest of the three modules. It's designed to hold all of your clothes and personal items for a longer trip. It includes a main compartment, a laptop compartment, and several smaller pockets for organization. This module is perfect for a weekend getaway, a business trip, or a longer vacation.
Modular design: The Journey System's modular design allows you to use the modules depending on your needs. For example, if you're going on a weekend trip, you will be in situations where the hip pack is all you need, rather than a full day pack. The luggage pack allows you to leave your clothes where you stay, so you can move with a smaller, more streamlined backpack. This versatility makes the Journey System a great carry system for every day of the year.
Comfortable and durable: The Journey System is designed to be comfortable and durable. It features padded straps and a back panel for comfort, as well as high-quality materials for durability. This means you can wear it all day without feeling uncomfortable, and you can rely on it to last for years to come.
Overall, the Journey System's modular design makes it a great carry system for every day of the year. Whether you're running errands, going on a hike, or traveling to a new city, the Journey System has the right module for your needs. It's comfortable, durable, and versatile, making it a great investment for anyone who needs a reliable backpack.
What's Included
Shipping
Causes
- Main Journey Bag
- Detachable day pack for traveling lighter
- Detachable hip pack to carry essentials
- Hanging toiletries bag
- Shoe garage draw string bag
- Smaller drawstring bag for tech accessories

Shipping in the USA: 
We use the most efficient and economical shipping company for the destination, so we use the USPS when possible, and UPS or FedEx if necessary.  Warehouse workers work Monday through Friday and react as soon as an order is placed.  Packages should arrive to customers in the lower 48 in 10 days or so.  
International Shipping
We ship around the world via premium express tracked courier from our international distribution hub, offering delivery straight to your door – plus total peace of mind.
TRANSIT TIMES:
The following are estimates:
→ NZ/Aus/Singapore/Canada: 14-19 business days
→ UK/Germany: 14-20 business days
→ Rest of World: 14-24 business days
CUSTOMS: We don't pretend to have intimate or extensive Customs knowledge of the entire world. We'll work hard to avoid your package experiencing problems, but in the end we can't guarantee you won't experience delays or be charged duties or other fees. There's always a risk (just like stepping out your front door in the morning!) – while we'll do what we can to work with you, we can't and don't take any responsibility for any dealings with your country's Customs service.
Any question about shipping?  Email us at info@ideamountain.com
Travel gear is fundamentally about expanding your mind.  By traveling, we learn more about the world, and more about ourselves.  Idea Mountain doesn't want to sell you stuff just to sell you stuff.  We want to make the world a better place. 
As we grow, we will support more important work as we can, where we can.  We will continue to work on making our entire business process net zero carbon footprint, and work to lift others up.  Here's a few organizations we are already supporting, and would love to encourage you to support as well.  
OneTreePlanted.org https://onetreeplanted.org/  For every Journey system purchased, we will plant TEN trees in your name in Central America through their program.
Save The Boundary Waters https://www.bwcabusiness.org/   We're proud to be a business supporter of this organization working to preserve a beautiful wild place.
Drawn to Save the Boundary Waters from Save The BWCA on Vimeo. 
Nexus Family Healing https://www.nexusfamilyhealing.org/   Idea Mountain was able to be part of a recent silent auction supporting this important work.
Servas - Traveling for Peace https://servas.org/   A fundamental part of bringing the world together - making international friends through experiencing other cultures. 
Black Lives Matter  https://blacklivesmatter.com/  In the USA, at this time, we all need to agree, Black lives count.   If you use #blacklivesmatter at checkout, you can get 5% off your total, and we will donate another 5%.